POLICY:
- Isla Trix reserves the right to make changes to the online shop, products, prices, and policies at any time without prior notice. It is recommended that you review the Shop's Policy/FAQ each time you visit the Isla Trix website to stay updated and in agreement with our policy.
-
Due to Covid-19, Isla Trix is not allowing/accepting refunds or exchanges at this time.
ALL SALES ARE FINAL. Please make sure to have your correct size(s) before placing an order. If you need help finding your size, please email me and I will be happy to help you!
- Received an item that is damaged? contact islatrixshop@gmail.com to further discuss a solution.
- Received an item with incorrect customization(s)? (ex: incorrect spelling, wrong size, or a metal mix up) contact islatrixshop@gmail.com to further discuss solution, Subject to fee may apply if fault is not done by Isla Trix.
- VERIFICATION EMAIL: Please make sure that you submit an email address that is checked regularly as all important emails regarding your order will be sent to that email.
- PRODUCTS: Descriptions for products are & can be subject to change without notice. Even though I try to be as precise as possible, I do not warrant that the product's descriptions and/or content are accurate or error free. Please contact islatrixshop@gmail.com prior to purchasing the product(s) with any questions or concerns you might have regarding the specific item(s).
*Isla Trix does not offer price adjustments or price matching.*
FREQUENTLY ASKED QUESTIONS:

How long will my order take?
All orders are handmade (made to order) and can take up to 7-10 business days (Monday - Friday) to be processed unless otherwise stated on our Shop Banner. Orders placed on a Friday after 12pm &/or over the weekend will not be processed until the following Monday. Processing time does not include shipping. Once your order has been shipped Isla Trix is no longer responsible for your package once in transit.
Can I cancel or change my order after it has been placed?
Cancellation or changes of an order must be done within 24 hours after the order has been placed. Once the 24 hours are up, the order will begin processing.
Will I receive a tracking number for my order?
Once your order has been shipped, you will receive a confirmation email with your tracking number. Please allow up to 24 hours for your tracking number to show the correct status of shipment. Shipment time depends on your location and which shipment method you choose.
What if my package is lost or stolen?
Isla Trix is not responsible for any lost or stolen packages that are provided with a tracking number. Please contact your local USPS for further help on tracking your package.
Shipping Costs & International Shipping?
DOMESTIC SHIPPING:
- $5.50 Flat Rate - USPS First Class Shipping w/tracking 3-5 days.
INTERNATIONAL SHIPPING:
- $15.00 Flat Rate - USPS Priority Mail Shipping w/tracking 7-10 days
*Note: If any additional cost is found to be required at the time of mailing, you will be contacted by email for your approval to add extra cost.
By placing an order for international shipping, the customer agrees to pay all taxes and customs duties when the package arrives in country. Packages that must be processed through customs may take extra time, so please allow for this when trying to estimate a delivery date. Isla Trix is not responsible for additional costs.

How do I determine my Bangle Bracelet Size?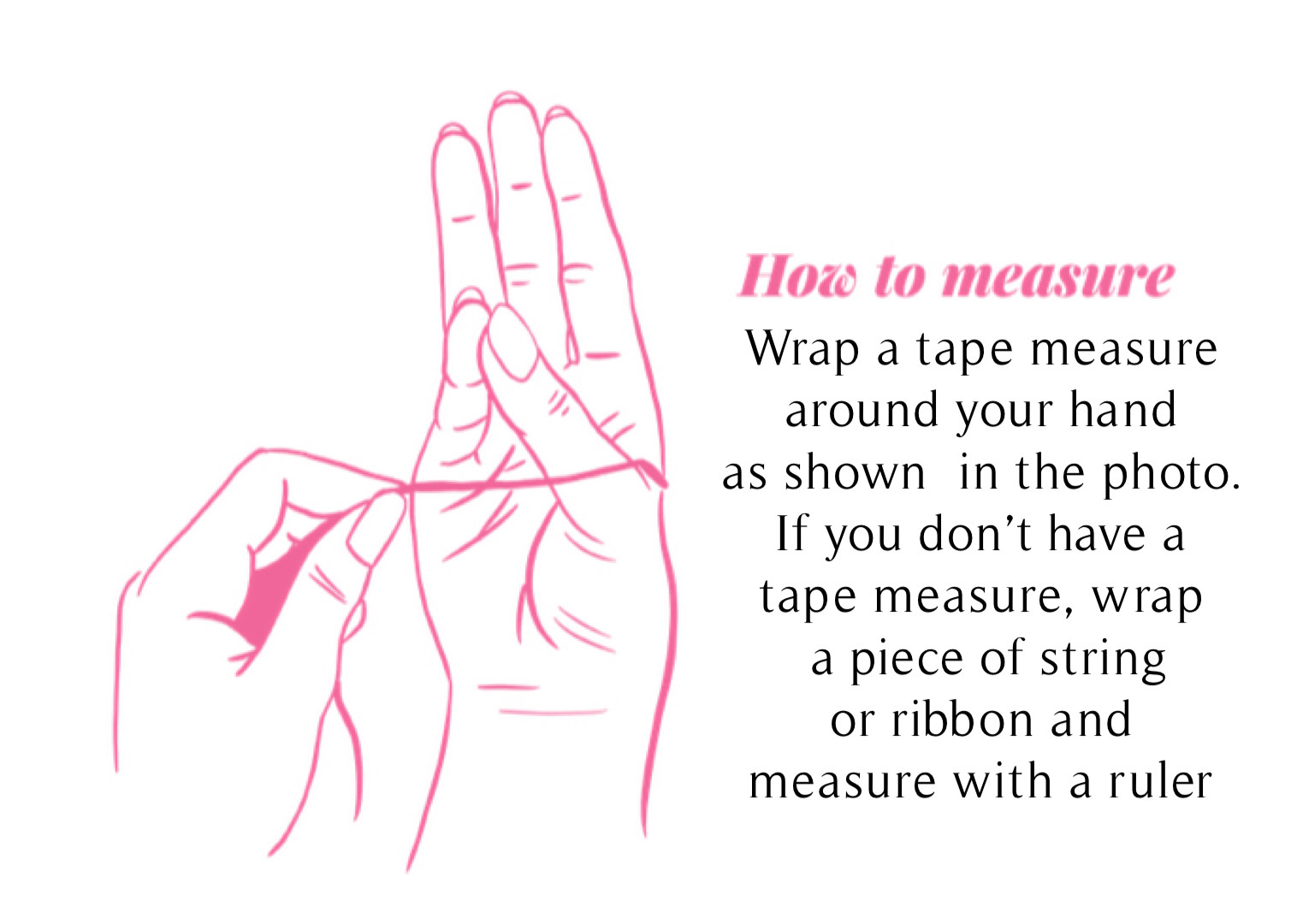 What materials do you use?
Each Isla Trix creation is made with 14K Gold-filled or Sterling silver metals. (unless stated in the product description).
What is 14K Gold-filled and will it tarnish?
14k Gold Fill is a high quality, affordable alternative to Solid Gold. Basically, there is a thick layer of solid gold bonded to a base metal, usually brass. All fine metals will tarnish with time.
Gold Fill has 100x more gold alloy than Gold Plated and because this layer of gold is much thicker it means that 14k Gold Filled jewelry last longer and doesn't tarnish easily.
Why is there copper/brown spots on my 14k Gold Fill Jewelry?


Most of my jewelry is soldered. This process can expose the base metal of 14k Gold-Filled pieces. This might result in a small dark spot appearing at the solder point. These spots can easily be removed with a polishing cloth.
Does 14k Gold Fill turn my finger green?
Nope! However, everyone reacts to metals differently. There are certain cases where people's body chemistry reacts to gold, oxidizing it and leaving a green residue on your skin. This has to do with your PH levels.